December 2005
|
Main
|
February 2006
Censorship Visualized: Tiananmen
Ross Mayfield illustrates the effect of censorship with two different Google searches:
Images of Tiananmen through Google China, and the same through Google.com
| | |
| --- | --- |
| | |
| google.cn | google.com |

Also read Ross Mayfields posting about this: The Great Wall of Google.
1 Comments and 0 Trackbacks
|
Permalink
Open Minds Gather in Leuven
January 12th I had the pleasure of speaking at a day long seminar called Open Minds of the University of Leiden (Netherlands) and the University of Leuven (Belgium), which took place in the medieval Groot Begijnhof in Leuven. When the meeting was announced last november I thought that it would be interesting to attend, and was sorry to learn that it would be a closed session. A week later I received the invitation to be their key note speaker to start the day :)
After I had the opportunity to talk about my view on knowledge management, (personal) information management and its relation to social software based on the changes I see in the world, I had the pleasure to hear about cases where wiki's and blogs were used in both universities, how Creative Commons might be used by academics for courseware, and how students experience the 'new' web ( I'm deliberately leaving out the Web 2.0 buzz word here) and the way these tools enter their education.
From one of the cases concerning wiki use in a course there came a few interesting observations.
Students were somewhat fearful of just going ahead and edit content, if there wasn't some structure provided already, or if explicit permission wasn't given. Also the results were in a very classical 'paper' form which seemed to surprise the teacher. I don't think it is very surprising really. Students have grown accustomed to being taught in a certain way, and being graded in a certain way. Now if you change the rules by allowing them free reign in a wiki, and perhaps you as a teacher don't make clear that there will be new rules to follow, they will respond in the way they've come to expect you to want them to respond. In a different blogging experiment in a class room for instance it was making clear that they would be graded on collaboration as well that triggered joint commenting by students. Other lessons taken away from this wiki experiment was that you need community/group sense and group purpose to keep things going. Something we know also from the experience made by the Wikipedia community.
The day was concluded with another key note, by Wim Veen, of Delft University, who summarized the day in comparable terms to those with which I started it. The day was set in the beautiful Groot Begijnhof in Leuven, a medieval part of town, which provided a pleasant and relaxed atmosphere. Only the way the general assembly room was prepared did not quite fit the themes discussed, with chairs bolted to the floor, a podium and a fixed microphone. Not quite a setting that invites interaction and conversation. Nonetheless it was a good day and a great learning experience.
All presentations were videotaped and should be available from the Open Minds website shortly.
Tags: informationstrategies, informationoverload, wimveen, openminds
Powered by Qumana
0 Comments and 0 Trackbacks
|
Permalink
Tag I'm It....Four Things (for Jon)
Yesterday I got tagged by Jon Husband. Now, I am not likely to simply ignore questions from Jon, even if usually these type of chain-memes are not for me. Jon is way too valued a friend for that, and the request comes with good references such as Suw and Euan. So here goes!
Four jobs I had:
Taking meter readings for a gas company
Knowledge manager at a research company
Founding boardmember of IFCCC
Consultant at Proven Partners
Four movies I can watch repeatedly:
Empire of the Sun
Discovery of Heaven
Amadeus
...
Four places I've liked:
Aberdeen, Scotland
Zug, Switzerland
Boston area, USA
Prague, Czech Rep.
Four tv shows I like:
Noorderlicht (in depth documentaries, taken of the air, but continuing on the internet and through podcasts)
Gilmore Girls (for it's fast exchanges, and our weekly tea hour on the couch with Elmine)
Zomergasten (a 4hr programme where guests get to compose and discuss their own perfect tv-night, and ends with broadcasting their favourite film)
The Lama's (a "theater sport" / improv programme, based on suggestions from the audience)
The links are to shows in Dutch, I'm afraid :)
Four places I've vacationed:
New England, USA
Provence, France
Denmark
Alps (Austria and Switzerland, often)
Four favourite dishes:
Clams (when boiled in garlic and white wine)
Zürcher geschnetzeltes if served with Kässpätzle, not Rösti
Homemade Gulash
'Green' herring (basically raw herring, directly from the sea)

Four sites I visit daily:
My personal laptop-based wiki
None other unless triggered through RSS
Four places I would rather be right now:
In the new house we will be moving into the coming week
(and which pretty much takes all cognitive capacity right now)
Four bloggers I am tagging:
Lilia Efimova, to get her blogging rhythm going again
Boris Mann, whom I should have talked to more when I got the chance
Maarten Schenk, mister Six Apart for Belgium and the Netherlands
Juan Julian Merelo, for his sense of humour and charting the spanish blogosphere

Powered by Qumana
1 Comments and 1 Trackbacks
|
Permalink
Moving House: Web Service Interruption, Advance Notice
This is an advance notice that my and Elmine's websites will probably be off-line for a number of days in February.
Due to the fact that we are moving to a new home, we will be moving our DSL line and servers as well.
Services will probably be suspended on February 13th, a day before handing over the keys of the house we are leaving. At this time there is no guarantee that the DSL connection on the new address will be up and running by then, though we hope it will. At the very least service will be suspended for some 24 hours, as I will have to reroute all domains to a new IP address.
These are the sites affected:
http://www.zylstra.org/, where my English blogs reside, and its various subdomains
http://www.interdependent.biz/, the home of the Dutch and German blog as well as the BlogWalk wiki space
http://elmine.wijnia.com/, Elmines blog
http://www.skallagrigg.net/, Elmines business site
http://www.innovatiefonderwijs.net/, the Dutch foundation for innovation in education.
0 Comments and 0 Trackbacks
|
Permalink
Jack Yan, the Persuader Blog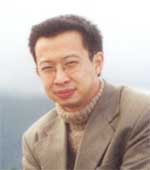 For a number of years now, I have been in contact with a group of branding experts that call themselves the Medinge Group. A very interesting, bright and warm group of people who are all passengers on the clue train, ever since it took up service.
Since they look at brands containing value in human, cultural and other intangible senses, there is a natural fit with my approach to the role of knowledge in organisations.
In the past years I have attended some of the Medinge Group meetings, and shamelessly plugged their 2003 book Beyond Branding.
Through the Medinge Group I have met a lot of people face to face. Jack Yan sadly is not one of them. Jack lives in New Zealand, half a globe away, and a face to face meeting has not yet come to pass. Nevertheless I have come to enjoy his voice and insights, both during meetings via webcam, as well as on the Beyond Branding weblog.
He has now started his own weblog, The Persuader Blog, my latest addition to my daily RSS diet. Thanks for adding your authentic voice to the multitude Jack!
1 Comments and 0 Trackbacks
|
Permalink
AllPeers: P2P social networking
Via
Tris Hussey
via
Boris Mann
I found
AllPeers
. It's a Firefox extension that basically incorporates BitTorrent into your browser and let's you keep a persistent buddy list. That way you can share your files, media, urls or whatever with your network without any central point in between.
This is a good step towards the
P2P Social Networking
I talked about earlier. The buddy lists allow you to have a list of your contacts and relations in your browser, and the filesharing component to selectively share stuff with along your relationships. The filesharing is good for providing objects of sociality for those relationships (See
Jyri Engestrom
).
Sharing stuff on-line with your contacts like that is of course very close to how people share things in their day to day lives. It is the easiest and most effective way to share things.
It is not the most efficient way to share things one on one, if the shared item is popular and gets shared a lot. This is where the BitTorrent part of AllPeers kicks in. It allows you to share efficiently by building on the wider resources, multiple paths and sources of a distributed network.
So AllPeers looks promising. It allows me to share with my contacts along my existing relationships, and uses a technology to be able to make it efficient in a distributed network setting. I also like the fact it resides in the browser. Looking at our usage the browser is a more logical place for this, than e.g. instant messaging apps (which get mentioned often as a vehicle for p2p sharing). IM is about having quick conversations with people, and ocassionally sending pointers to resources that support those conversations. Sharing stuff/files to me at least feels less likely to take place during a chat (but likely after or as a result of a chat).
It's not in beta yet, but you can sign up for beta testing. I look forward to getting the url for beta testing this, and will let you know what I think of it.
1 Comments and 0 Trackbacks
|
Permalink
Happy New Year
A wish you all a smashing and grand 2006, full of exciting learning and collaboration opportunities!
3 Comments and 0 Trackbacks | Permalink
(posted by Ton Zijlstra at January 1, 2006 12:01 AM)