December 2004
|
Main
|
February 2005
Our Company Blogs
The KM consultancy firm I am part of has started an external weblog. Since I started working at Proven Partners, I of course shared my weblogging experiences with my new colleagues. Half of them are now using RSS-readers as a result of those conversations, and now we have started blogging. The weblog is part of the company website and can be found at http://www.provenpartners.nl/weblog (RSS feed). It is in Dutch, and I will be its primary author at first.
We have formulated goals as to how many of my colleagues we would like to get writing for the weblog in the coming 12 months, and what sort of effect we would like to see in the number of conversations the weblog generates. It is an experiment that I think has the potential to become a great new way of engaging with people outside our organisation, and it is also a good way to collect experiences we could then share with our relationships. All in all I am pretty excited and curious how it will develop.
0 Comments and 0 Trackbacks
|
Permalink
BlogWalk in Global Knowledge Review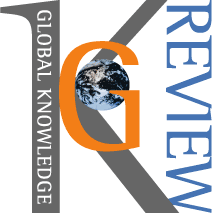 In the latest issue of Global Knowledge Review, the magazine by David Gurteen and Bizmedia bringing you KM practices from around the world, I contributed an article on BlogWalk. The full text of the article, titled Hosting Grassroots Conversation Between Knowledge Activists, is available from David Gurteen's website.
Basically the article talks about how conferences don't provide the environment to interact with others the way I want, and how that frustration turned into BlogWalk. That creating the right environment for meaningfull conversation ourselves was an expression of taking responsibility for our own actions. And that being able to create such an environment yourself might well be a critical skill in a knowledge economy.
By the way, the results of these BlogWalks, such as the one held yesterday in Chicago, are aggregated on the Blogwalk Topicexchange channel, and in the BlogWalk Wiki.
0 Comments and 0 Trackbacks
|
Permalink
BlogWalk Chicago
There are days when you would rather be somewhere else. Today I would have liked to be in Chicago, attending BlogWalk. But one can't go everywhere all the time, and budgets have limits, at least mine do.
Today saw BlogWalk 6 in snowy Chicago. Not everybody could make it, according to AKMA, who blogged some live impressions. Krista Kennedy and Judith Meskill had to cancel, but Phil Wolff decided to attend last minute.
Topic today was a rerun of our London session, on social software in organisational settings. Lilia Efimova is representing both Sebastian and me, and I am glad to see that some characteristic features of previous sessions got transplanted across the Atlantic, such as the Windows Wiki (post-its on the window). Other traditions, such as the walk, got adapted to local circumstances: an impromptu snow ball fight.AKMA posted pictures in his Flickr stream, from which I copied a few shots.
....
Window Wiki and Snowball fight, photos by AKMA
I am looking forward to reading more blogpostings in the coming hours/days.
0 Comments and 0 Trackbacks
|
Permalink
One More for Transparancy
Via Neville Hobson I was pointed to the new, not yet really launched blog, of Margot Wallström, Vice President of the European Commission, and Commissioner for Institutional Relations and Communication. She writes on her official website:
I have decided to do a blog during my five year term to give people an idea of what it is like to be a Commissioner and how the EU looks from the inside. (Yes, the blog phenomenon has not escaped my attention!).
Her first entry is about the tsunami in Asia, and contains both personal voice and authentic observations. A promising start. As Neville says, Benefit-of-the-doubt time.
I sent vice president Wallström an e-mail congratulating her on her initiative. Of course I also said that I hope to see RSS, Trackback, and commenting appear soon. But most of all I tried to reinforce the message that blogging is about authentic personal voice and engaging in meaningfull conversations, and that at first this might take some getting used to, feeling like an extra chore. But that over time it will become just part of how one engages with the world, filters and shares information.
It seems hardly a coincidence that Margot Wallström is from Sweden. The same EU-nation, where last November I experienced the openness with which we were welcomed in the Swedish Parliament, and had a pleasant conversation with Swedish MP Ingvar Svensson, with whom I had a brief e-mail exchange afterwards on the blogpost I wrote about that visit.
An interesting observation in her first blogentry, made by one of the people she works with who was in Kao Lhak when the tsunami hit, is worth repeating here:
They then spent four, nearly five days, with Thai people who took care of them, brought them water and food. They experienced the absurd situation of being found by different rescue teams who first of all asked for their nationality. The Germans brought their own citizens home, then the Norwegians, then the Italians, then some other group who came - and my friend asks herself: what does it mean to be European?
Indeed, what does it mean to be European? Of course it is absurd to send out different teams to rescue people based on nationality. Also it is entirely understandable that countries seek to aid their own citizens quickly, with this strange effect in it's execution. No need to get a Europe based on uniformity, our diversity is something to celebrate, but coordinated actions should well be within our grasp.
Examples of the latter were also visible, thankfully, in the last weeks, when Belgian and Dutch air force crews flew citizens of different EU countries back to Europe.
1 Comments and 1 Trackbacks
|
Permalink
Paul Goodison Looking For A New Job
Paul J Goodison B.A. (Hons), PGCE, QTS, ACIM is looking for a new workplace starting from February 11th 2005.
So, I am looking, ideally a strategic role, in either marketing or knowledge management and possibly with connections to Internet technologies (websites, software, hardware) but definetely something that allows me to use my considerable experience of taking ideas / products from inception through business case, design (particularly customer experience and process) and implementation. Ideally based within less than an hour of Farnborough in Hampshire, UK although willing to relocate if the right role is available.
I have been in blogging and e-mail contact with Paul for a long time now and appreciate his thinking and perspectives. I missed out on meeting him on BlogWalk 4 in London last September, but hope that that will be remedied this year.
If you are looking for an experienced knowledge worker to bring products from the idea stage to implementation, then give Paul some thought. You can find his CV in both contemporary and traditional style on his site.
Looking for more recommendations? Have a look at Martin Roell, and Johnnie Moore.
1 Comments and 0 Trackbacks
|
Permalink
European Corporate Blogs
A growing list at Corporate Blogging mentions companies from different European countries.
0 Comments and 1 Trackbacks
|
Permalink
Asian Seaquake
Ever since Christmas we have been seeing the rising toll of casualties in Asia to incomprehensible height, after disaster struck. (By comparison the death toll now stands roughly at the number of inhabitants in my home town. Impossible to imagine, my whole town gone.)
It's hard to think of anything meaningful to say from the comfort of my home; another call to help doesn't make sense as those are already coming at you and me from all directions, through all media.
But there are stories to tell, and when the dust settles, when emergency relief efforts give way to rebuilding and reconstruction, we will have to take a close look at the role blogs and wikis played in this, and what lessons to take away and spread, so that we can apply them when needed again.
The first thing to note is how connected the world is, which does not cease to amaze me. There is no "far away news" any more really. We knew four people in the area, who all are safe, although two had a horrifying experience. And my feedreader brings to me personal accounts, with an immediacy and emotion that sends shivers down my spine. And those are only the stories that turned out well. It is simply impossible to not feel involved when personal voices bring home the pain, grief, anguish and horror, as opposed to the abstracted statistics.
And then there are those of us that know how to turn our experience with new media into making an impact. The efforts of Dina Mehta and the wonderfull people of Worldchanging deserve our great respect. Through the Tsunami help-blog and wiki they have created, information, essential to those missing loved ones, is disseminated and help-efforts coordinated.
If you are donating money to relief efforts I would like to ask you to consider to give it to efforts who are not only concerned with emergency relief but also will assist in enabling the people of SE Asia to rebuild their communities in a sustainable way. It is once the spotlight of media-attention moves away, once the initial emergency relief comes to an end, when the work still to be done is less newsworthy that our support is most needed.
1 Comments and 0 Trackbacks
|
Permalink